Adding a Site Alias
How to add multiple domain names that can be used to navigate to a site. This could be a local address (i.e. local host), an IP addressAn Internet Protocol address is a unique number assigned to technology (such as computers) that is connected to the Internet. (i.e. 146.0.0.2), a full URL (i.e. www.domain.com), or a server name (i.e. MYSERVER). Restricted to SuperUsers.
Navigate to > Management and click the Edit button beside the title of the required site - OR - Navigate to > Settings.
Select the Advanced Settings tab.
Expand the Aliases section.
Click the Add New Alias button.

A new row is now displayed in the Manage Alias(es) table below the existing aliases.
In the Alias column, enter the new alias into the text box without the http:// protocol prefix.
Optional. Select the Primary check box to set this new alias as the primary alias for this site. The default alias is used in conjunction with the " Alias Mapping Mode" field. When the mode is set to Canonical then the default alias is used as the canonical alias for search engines, however when the mode is set to Redirect then the default alias is used as the permanent redirect.
At Language, select the language of this site.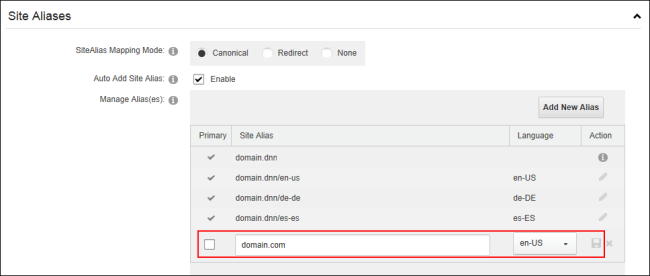 Click the Save  button. The newly added site alias is now displayed in the HTTP Alias list.