Deploying and Installing More Extensions
How to obtain additional extensions for use in this DNN installationRefers to a single installed instance of DNN and all the sites within that installation as listed on the Host > Site Management page. through DNN Store. DNN Store has a vast range of commercial extensions to meet different business needs and a collection free open source DNN Project modules that are maintained by active DNN community member and detailed in the DNN AdministratorRegistered users who are members of the Administrators role. These users have full access to manage the site including adding, deleting and editing all pages and modules. Administrators also have access to the Admin pages located on the main menu. manual that can be downloaded from http://www.dnnsoftware.com/Community/Download/Manuals.
The DNN Releases ExtensionAn extension is any component that can be uploaded to DNN to extend it's base functionality. Some common extension types are authentication systems, skins and containers, languages and modules. Verification Service provides a quick and easy way to test whether an extension is suitable for a DNN version. For more details on this service, view the DNN Extensions Verification Service press release.
Navigate to > Extensions and then select the More Extensions tab - OR - Select Modules > Find More Modules from the .
In the Search for Extensions text box, enter the extension name or a keyword for the extension. For Example, Announcements or DNN Announcements.
Optional. At Type, filter extensions types. E.g. , , All.
Click the Search button - OR - Strike the Enter key. Tip: An alternative to searching for an extension, as detailed below at Steps 2-4 is to click on a in the Cloud section.
The search results are now displayed in the Extensions list to the right.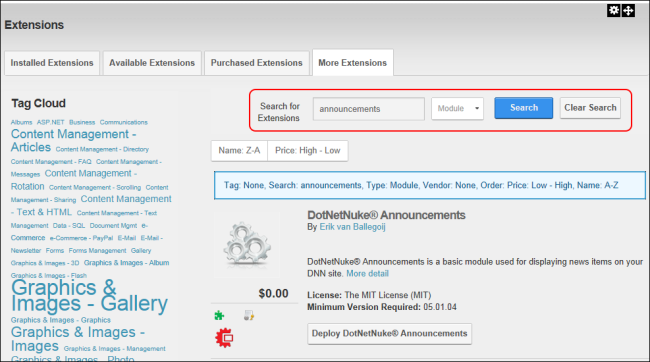 Locate the required extension. Note: When searching for a free DNN Project , click the Price: Low - High button to view free modules at the top of the list as shown in the above image.
Select from these options:

Click the Buy [ Name] button for extensions that require payment. This transfers the user to the DNN Store (http://store.dnnsoftware.com/) to complete the purchase. The extension will now be ready to deploy on the site. See "Fetching List of Purchased Extensions"
Click the Deploy [ Name] button to deploy free extensions.

Click the Deploy button to deploy this extension to the site. Note: Click the Download button to download the extension to the site for further use.

Click the Install button to install the module and complete all the steps of the install Wizard. This can be performed later from the > Extensions page.