Creating a Vocabulary
How to create a new vocabulary using the TaxonomyTaxonomy refers to the DNN classification system which uses tags to categorize content. Manager. Note: Only the Description field can be edited once the vocabulary is saved.
Navigate to > Advanced Settings > - OR - Go to a Manager module.
Click the Create New Vocabulary button located at the base of the Manager. This opens the Create New Vocabulary page.
In the Name text box, enter the name for this vocabulary.
In the Description text box, enter the description of this vocabulary.
At Type, select Simple to create a flat list - OR - Hierarchy to create a hierarchical tree list.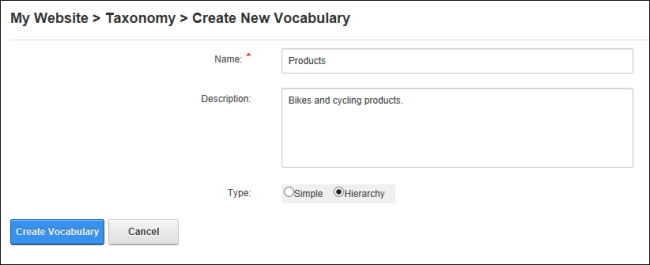 Click the Create Vocabulary button. Next Step: See "Adding Terms" to add terms to this vocabulary.