Adding Terms
How to add terms to a hierarchical vocabulary using the TaxonomyTaxonomy refers to the DNN classification system which uses tags to categorize content. Manager.
Important. It is recommended that the same name be used for the first term of hierarchical vocabularies and the vocabulary name. This allow hierarchical trees with multiple branches to be created. If terms are not setup in this way then the user will be restricted to a single top level parent term.
Navigate to > Advanced Settings > - OR - Go to a Manager module.
Click the Edit button beside the vocabulary for this term. This opens the Edit Vocabulary page.
Click the Add Term button. This displays the Create New Term page.
Enter a name and description for the term.
At Parent Term, select the parent for this term. This field is only displayed for hierarchical vocabularies and only once the first term has been created.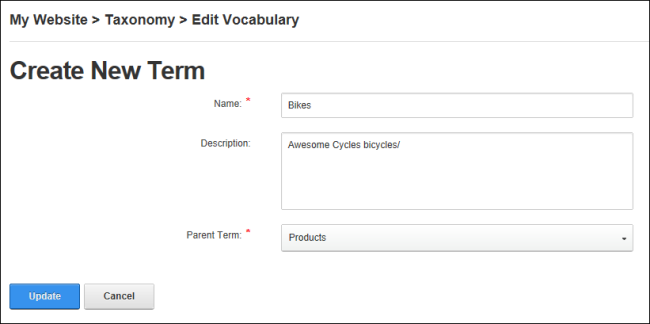 Click the Update button. The new term is now displayed in the Terms field which can be expanded to view all terms in the tree. Terms are listed in alpha-numerical order in the tree.
Repeat Steps 3-6 to add additional terms.