About the Stylesheet Editor
DNN uses a CSSCascading Style Sheets (CSS) refers to the style sheet language used to describe the look and formatting of your site. The CSS file is typically included with a skin package to set the style of the site, a page or a module. (cascading style sheet) to control the fonts, styles and colors applied across the site. The CSSCascading Style Sheets (CSS) refers to the style sheet language used to describe the look and formatting of your site. The CSS file is typically included with a skin package to set the style of the site, a page or a module. maintained in this editor is the default CSSCascading Style Sheets (CSS) refers to the style sheet language used to describe the look and formatting of your site. The CSS file is typically included with a skin package to set the style of the site, a page or a module. applied to all site pages. Where a skin package containing a CSSCascading Style Sheets (CSS) refers to the style sheet language used to describe the look and formatting of your site. The CSS file is typically included with a skin package to set the style of the site, a page or a module. file is applied to a page or the site, this CSSCascading Style Sheets (CSS) refers to the style sheet language used to describe the look and formatting of your site. The CSS file is typically included with a skin package to set the style of the site, a page or a module. will override the CSSCascading Style Sheets (CSS) refers to the style sheet language used to describe the look and formatting of your site. The CSS file is typically included with a skin package to set the style of the site, a page or a module. maintained on the AdminRegistered users who are members of the Administrators role. These users have full access to manage the site including adding, deleting and editing all pages and modules. Administrators also have access to the Admin pages located on the main menu. > SiteRefers to a single and unique site created using DNN. Multiple unique sites can be created and managed within each installed DNN application. Setting page. The default stylesheet can be edited and saved by Administrators without affecting the styles that are part of uploaded skin packages. The default stylesheet can be restored at any time however this will delete any modifications made on this page. For information on using CSSCascading Style Sheets (CSS) refers to the style sheet language used to describe the look and formatting of your site. The CSS file is typically included with a skin package to set the style of the site, a page or a module., visit http://www.w3.org/Style/CSS/
Navigate to > Settings.
Select the Stylesheet tab.
To edit the current stylesheet enter the changes directly into the editor and then click the Save Style Sheet button.
Click the Restore Style Sheet button to restore the default style sheet.
Tip: Hold down the Ctrl button and press the F5 button - OR - Click the Refresh button on the Web browserA software application for displaying HTML pages on the World Wide Web. Common browser applications include Microsoft Internet Explorer and Google Chrome. to view the changes.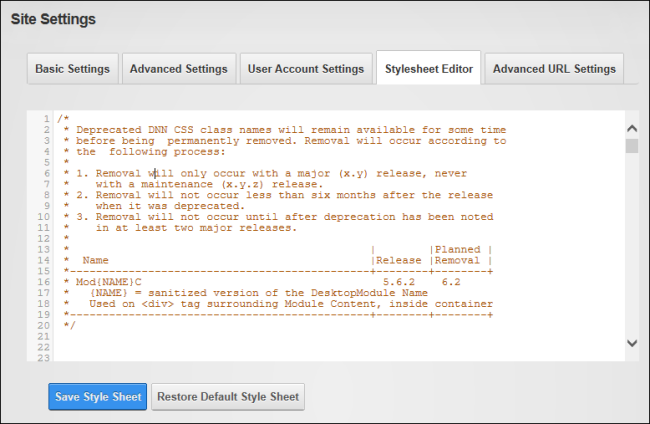 The Stylesheet EditorRefers to the rich text editor window of the Editor control which enables content management for several types of modules such as HTML/HTML Pro module.
Related Topics: