About Newsletters
Newsletters (located on the AdminRegistered users who are members of the Administrators role. These users have full access to manage the site including adding, deleting and editing all pages and modules. Administrators also have access to the Admin pages located on the main menu. >

Newsletters) allows individual or bulk email messages (newsletters) to be sent to the members of one or more security roles and/or to one or more email addresses. Messages are sent to each recipient separately to prevent recipients from seeing each other's details. Newsletters identifies when a newsletter is set to send to an email address more than once and ensures only one copy of the newsletter is sent to that address. The message can be either plain text or HTMLHypertext Markup Language. A set of tags used to mark the structural elements of text files. HTML files include tags that create hyperlinks to other documents on the Internet. format. Files can be attached and replacement tokens can be included. A Successful or Not Successful message is displayed once the message is sent. For messages sent synchronously, the message displays once all emails have been sent. For messages sent asynchronously, the message displays when the send action has successfully commenced. An email confirmation message is also emailed to the sender, See "The Bulk Email Report"
The Newsletter module can be deployed to sites and added to pages.
All users who are authorized to view Newsletters can send emails. Authenticated users must to have permissions granted to one or more folders of the site's Digital Asset ManagementA Digital Asset Management (DAM) system solves the problem of managing large collections of files by making them searchable and usable. DAM provides the tools for finding, organizing, and searching large collections of files. (AdminRegistered users who are members of the Administrators role. These users have full access to manage the site including adding, deleting and editing all pages and modules. Administrators also have access to the Admin pages located on the main menu. > File Management) to upload and/or select files. Unauthenticated users cannot attach files to messages. See "Modifying Folder Permissions"
Prerequisites. Newsletters require the following settings to be completed to function correctly:
The user must have a valid email address on their user account. This will be the default email address for newsletters, however users can specify a different from address when required.
Ensure the SMTP details are correct. See "Setting the SMTP Server and Port"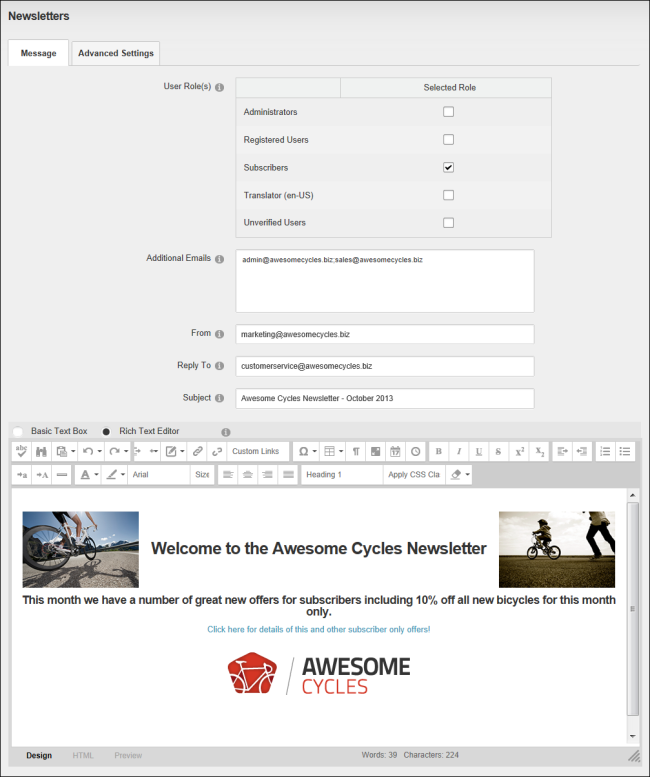 Newsletters