Modifying Folder Permissions
All users who have been granted Write to Folder permission to a DAMA Digital Asset Management (DAM) system solves the problem of managing large collections of files by making them searchable and usable. DAM provides the tools for finding, organizing, and searching large collections of files. folder can modify the permissions for that folder.
Navigate to >  File Management - OR - Go to a module.
Navigate to and select the required folder.
Right click on the folder name and select View Folder Properties.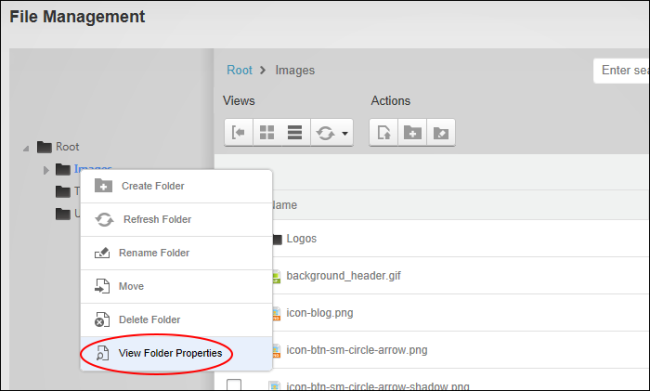 Select the Permissions tab. The current permission settings are displayed.
Optional. At By Group, select < All > from the drop down list to view a list of all available roles or select a specific role to set permissions for that role only.
Optional. In the Username text box, enter the username of the user to have permissions assigned and then click the Add button. This adds the user's name.
Click on a check box beside a user/role repeatedly until the correct permission ( Permission Granted, Permission Denied, or Not Specified) is displayed for viewing files (Opening Files in Folder), browsing files (Opening Files in Folder), or uploading files (Write To Folder).
Optional. At By Group, select another role, role group or Global to set permissions for additional roles.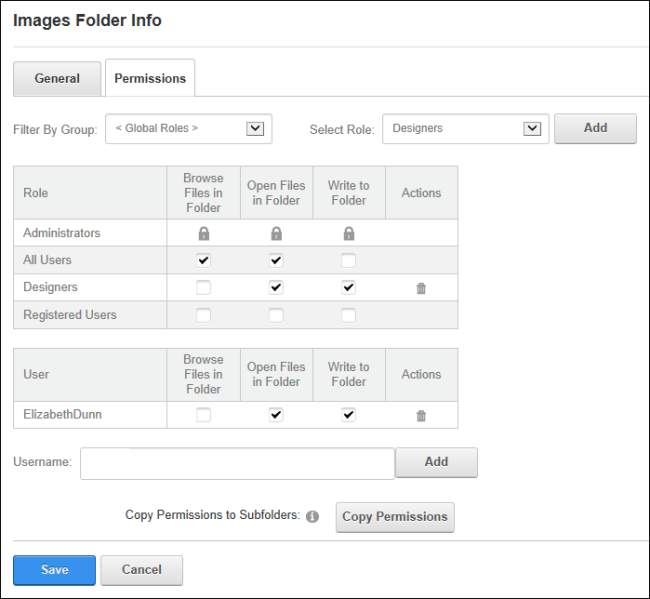 Click the Save button.