Logging Links
The Link Log, which forms part of the Link Control, can be enabled on many links. Once enabled it records and displays the date and time that the link is clicked, as well as the first and last name of authenticated users on the edit page of the link.
Important. The RadEditorThe RadEditor is the default Rich Text Editor (RTE) used in DNN 5.4+. RTE's are used on the edit page of numerous modules such as the HTML/HTML Pro, FAQs, Announcements and Events. has a different method for adding and managing link tracking. See "Setting a Page Link"
Here's how to enable the Link Log:
Recommended. At Track Number Of Times This Link Is Clicked? mark  the check box to ensure the best performance from the Link Log.
At Log The User, Date, And Time For Every Link Click? mark  the check box to enable the Link Log.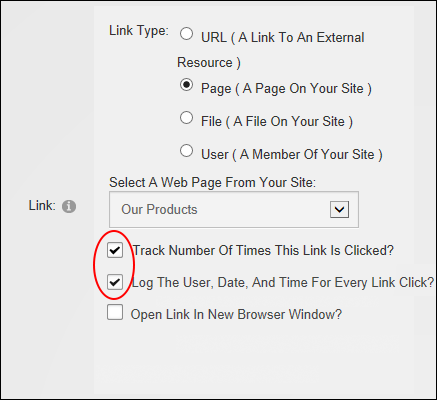 Click the Update button.
The Link Log can be viewed any time by going to the Edit page associated with the logged link and clicking the Click the Display button. The last seven days are logged by default, however users can choose an alternate date range by clicking the Calendar button to selecting a different start and/ or end date. See "Working with the Calendar"