Adding a URL Link
How to insert a link to a URL located on another web site using the Rich Text EditorRefers to the rich text editor window of the Editor control which enables content management for several types of modules such as HTML/HTML Pro module..
Highlight the text/object for the link - OR - Place the cursor where the link will be inserted.
Click the Hyperlink Manager (CTRL + K) button. This opens the Hyperlink Manager with the Hyperlink tab pre-selected.
In the URL text box, enter the URL address for this link.
Optional. In the Link Text text box, enter the text for this link. Any text highlighted at Step 1 will be shown here. Note: This field is not displayed when adding a link to an image.
Optional. At Target, select the target window for this link.
Optional. In the Tooltip text box, enter a tool tip to be displayed when a user places their mouse over this link.
Optional. At Class, select a class for the link - OR - Select Clear Class to use the default class.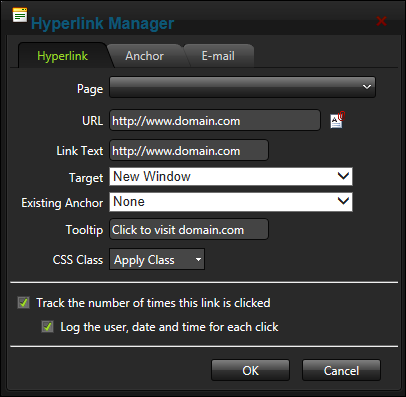 Click the OK button.