Viewing a Message
How to view a message on the user profile page (pictured below) or using a standalone Message Center module.
Click the Check Messages  button displayed in the top right corner of each page. Note: The number of new messages is displayed beside this button - OR - Navigate to a Message Center module.

The latest messages for the selected folder are now displayed. If the required message isn't displayed, click the

Load More

link to view additional messages. Users can filter messages by clicking on the Select button and then choosing to view either All, None, Read or Unread messages. Also check under the Sent or Archived tabs to view messages if the required message cannot be found in the Inbox.
Click on the message title link to read the message in full. Note: This marks the message as read; however users can choose to keep the message marked as unread by clicking the

Mark as Unread

link.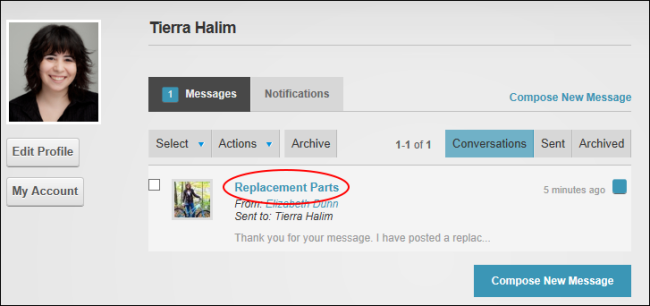 Optional. Click the

Messages

link in the Menu or click the Messages tab to return to the Message Center. Alternatively, users can reply to the message. See "Replying to a Message"