Setting a Workflow
How to set the workflow for an individual HTMLHypertext Markup Language. A set of tags used to mark the structural elements of text files. HTML files include tags that create hyperlinks to other documents on the Internet. module.
Go to a module.
Select  Manage >  Settings from the module actions menu.
Select the Settings tab.
At Workflow, select a workflow from these options:

Content Staging: Content staging allows content to be saved as a draft before it is published. Draft content will only be visible when edit mode is selected by users who can edit the module/page. In view mode the most recent published version of content will be displayed instead of the draft. This is the same for users with view permissions only. See "Publishing a Draft"
Direct Publish: With the direct publish workflow any content that is saved on the Edit Content page or through the inline editor will be immediately visible to all users with permissions to view the module. Editing users will be able to see the content for both view and edit mode.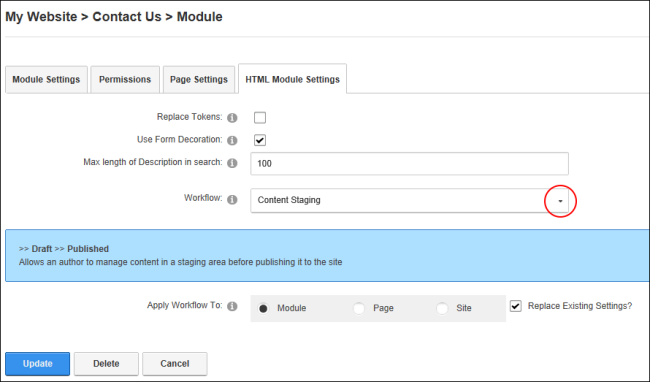 Click the Update button.