Managing My Workflow Tasks
How to view and update content that required reviewing before it can be published using the HTMLHypertext Markup Language. A set of tags used to mark the structural elements of text files. HTML files include tags that create hyperlinks to other documents on the Internet. module. This task requires that Workflow is NOT set to direct publish. See "Setting a Workflow"
Go to a module.
Select Edit  > My Work from the module actions menu. This displays the My Work page and a list of the content to be reviewed and published.
Click on one of the listed [ Name] links. This displays the selected module.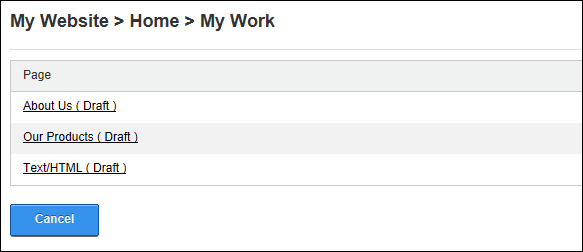 User can now choose to edit, preview and/or publish the unpublished content (See "Publishing a Draft"), or rollback to a previous version, See "Rolling Back Content"