Configuring Basic Module Settings
How to view basic module settings and set the module title and tags. Tags allows site content to be categorized in a meaningful way in search results.
Important. In order to view the ModuleDNN uses a modular design system to display content on a page. One or more modules are added to each site page to create and manage the site content. There are many different types of modules, each managing a different type of site content or site administrative tasks. Title, the "Display ContainerA design that can be applied to a module. Containers may include tokens.?" field must be checked and the container applied to the module must include the [TITLE] skin token.
Select  Manage >  Settings from the module actions menu.
Select the Settings tab.
Expand the Basic Settings section.
At Culture, the culture associated with this module is displayed.
At , view the name of the module. This field cannot be edited. E.g. Announcements, , etc.
In the Title text box, edit the module title.
At Tags, click on the drop down list and then mark  the check box beside each tag to be associated with this module. Click off the drop down list to save the selections. Tagging is a way of categorizing content for more meaningful search results. Tags can be created by users (See "Tagging Page Content") or editors (See "Creating a Vocabulary").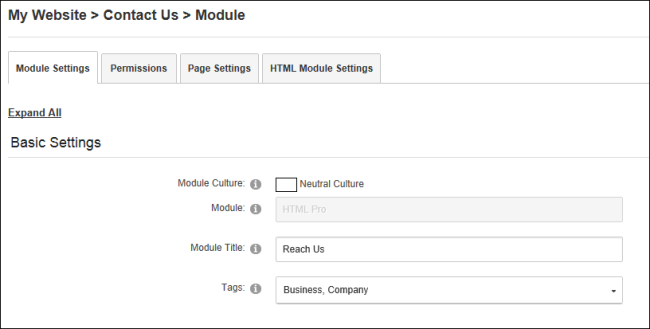 Click the Update button.