Adding Module Content
Authorized users can add content to one or more modules. This topic show a typically method of adding content to modules, however this is not uniform across all modules.
Tip: If the Control PanelDNN comes with a choice of two Control Panels called ControlBar (default) and the RibbonBar. The Control Panel enables Content Editors (optional), Page Editors, Administrators and SuperUsers to access a range of site building and administrative tools. is displayed, ensure Edit mode is selected.
Mouse over the Edit button in the module action menu to view the editing options that are available to the current user.
Select the Edit option displayed for the module. The name beside the button will change depending on the module. E.g. The  module displays the Edit Content option for editing; the Announcements module displays Add New Announcement; and the Banners module displays Options. Additional options will also be listed here for modules that have multiple editing choices. For Example, the FAQs module also displays the Manage Categories option.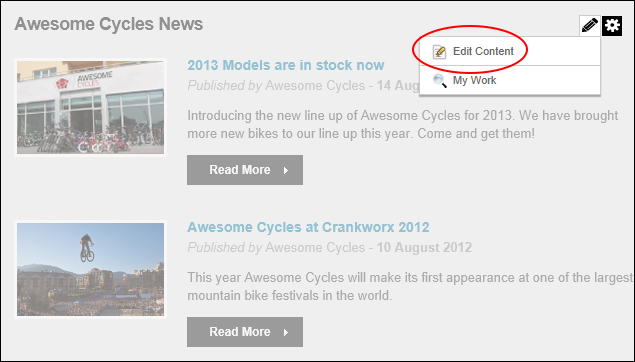 Add, edit and update the module content as required.
For details on adding content to specific modules see "Installed Modules" and "Available Modules" sections.