Previewing a Mobile Device Site
How to preview a mobile device site using the Preview mode on the Control PanelDNN comes with a choice of two Control Panels called ControlBar (default) and the RibbonBar. The Control Panel enables Content Editors (optional), Page Editors, Administrators and SuperUsers to access a range of site building and administrative tools..
Select Edit > Mobile Preview from the , or select Preview mode using the . See "Overview of the RibbonBar"

Select a device profile from the Profile drop down list.
These profiles are the same Device Profiles found in the Device Preview Management .
At Orientation, choose the viewing angle.

Portrait or Landscape
Depending on the particular device profile, Portrait mode can be a wider viewing angle than Landscape, one example is the BlackBerry Playbook default profile.

At Enable Device Detection, select this to enable Redirections on the previewed page.

Enabling this option will simulate the device experience. If the selected device profile from Step 1 satisfies any of the defined Redirection Rules, the Preview will show the page that it would be redirected to.
Disabling this option, the preview will only show the current page in the defined aspect ratio, no redirects will occur.
Redirects will also occur if the current viewing device satisfies any of the defined Redirection Rules.

At Show Dimensions, shows the screen dimensions defined for the specified device profile.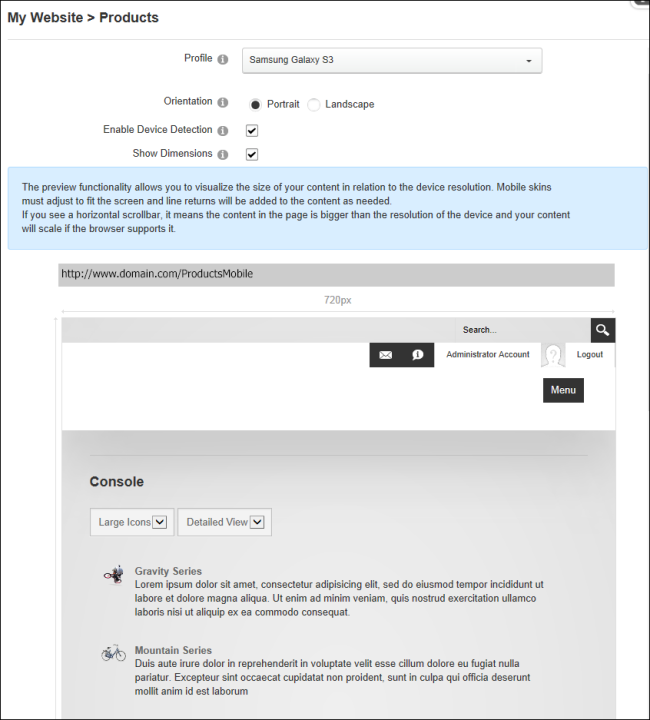 Preview Mode of the Products page being redirected to Products-Mobile page using a Samsung Galaxy S3
Related Topics: