Setting Translator Roles
How to enable or disable one or more roles to have Edit Rights to translate all new pages and localized modules for a language using the LanguagesMultiple languages (cultures) can be enabled on DNN. This can be enabled for the DNN framework (e.g. the field names on the Edit pages) and for the site content by creating content in each language using content localization. module. Note: A translator role is automatically created for each language upon creation of localized content. This tutorial explains how to add additional roles if required. In DNN Platform, users must be granted Edit ModuleDNN uses a modular design system to display content on a page. One or more modules are added to each site page to create and manage the site content. There are many different types of modules, each managing a different type of site content or site administrative tasks. permissions. In Evoq Content and Evoq Content Enterprise, users must be granted Edit Content permissions.
Navigate to > Advanced Settings > - OR - Go to a module.
Select the tab.
In the Edit column of the Culture grid, click the Edit This Language button beside the required language. This opens the Edit Language page.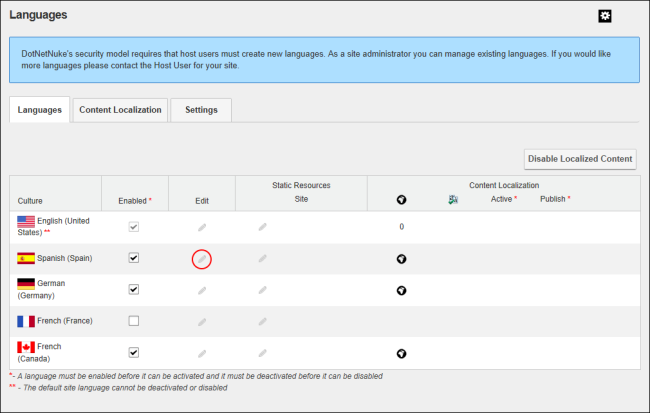 At Localized Content Translators go to the Selected Role column and mark  the check box beside each role that can translate this language. Note: The translator role associated with this role (e.g. Translator (es-ES)) is selected by default. - OR - unmark  the check box beside a role to remove it.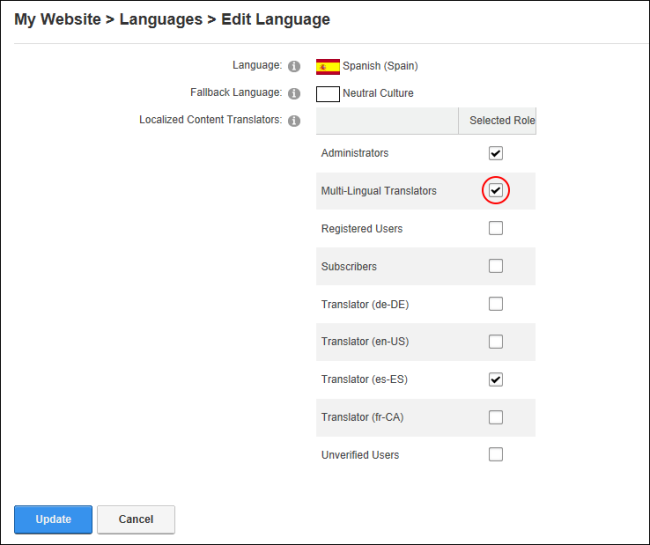 Click the Update button.