Adding Replacement Tokens
How to add replacement tokens into the HTMLHypertext Markup Language. A set of tags used to mark the structural elements of text files. HTML files include tags that create hyperlinks to other documents on the Internet. Pro module.
Prerequisite. See "Enabling/Disabling Token Replacement"
Go to the required Pro module.
Select Edit  > Edit Content from the module actions menu.
Enter the replacement token into the . E.g. [User:FirstName] [User:LastName].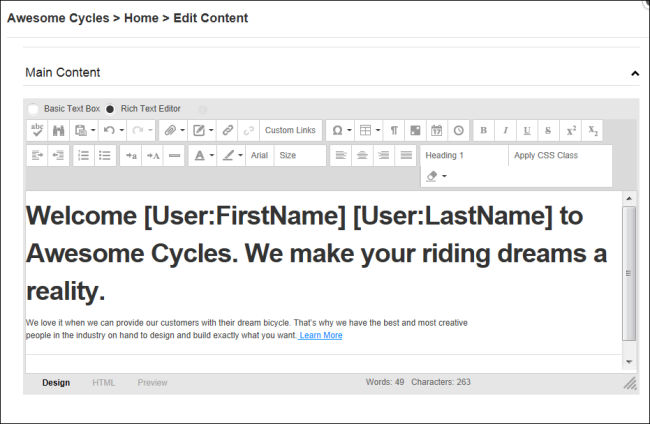 If Workflow is enabled, choose the required state. See "Adding and Editing Content" for more details on advancing this content through the workflow process.
Click the Save button.


Replacement TokensFormatted text which is replaced by real time information such as the site name or the date and time. For example: The token [DateTime:Now] displays the current date and time on your site. Tokens can be added to DNN skins, language files, the HTML and HTML Pro modules, etc. Displaying the User's Name