Activating/Deactivating a Workflow
How to set an existing workflow as active or inactive for the HTMLHypertext Markup Language. A set of tags used to mark the structural elements of text files. HTML files include tags that create hyperlinks to other documents on the Internet. Pro module. Active workflows can be set for one or more modules as required. Inactive workflows are not displayed on the ModuleDNN uses a modular design system to display content on a page. One or more modules are added to each site page to create and manage the site content. There are many different types of modules, each managing a different type of site content or site administrative tasks. Settings page and therefore cannot be selected for use, they can however be activated at any time in the future using this same process. Note: Activating a workflow does not apply the workflow to the module, to do this See "Setting a Workflow"
Select  Manage >  Settings from the module actions menu.
Select the Settings tab.
Click the Manage Workflows link. This will open the Manage Workflows page.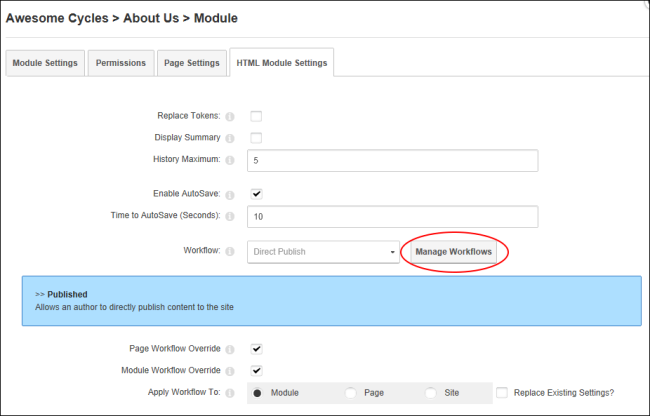 At Workflow, select the required workflow from the workflow drop down list.
At Deleted? select from these options:

Mark  the check box to deactivate this workflow. Deactivated workflows cannot be selected when configuring the   Settings. This allows any existing modules with this workflow set to continue using this workflow if required, whilst preventing this workflow from being selected for future use.
Unmark  the check box to activate this workflow for the site. This will reinstate this workflow in the drop down list on the Settings page.

Click the OK button to confirm.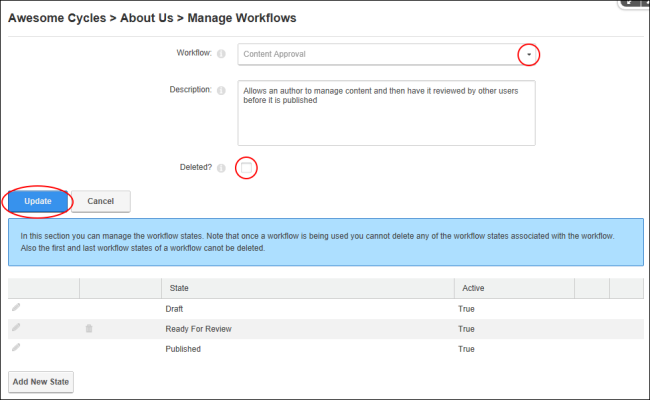 Users can now activate/deactivate additional workflows, or click Cancel to return to the module.