About SharePoint Connector
Evoq Content Enterprise is for organizations with a sophisticated IT infrastructure and multiple content contributors that deploy DNN in critical web applications. The Microsoft SharePoint Connector enables organizations to leverage the power of the SharePoint Enterprise Content Management (ECM) solution and the flexibility of the DNN Platform Web Content Management System (CMS). Organizations can securely, cost effectively publish documents stored in their SharePoint document repository to a public web site, extranet or intranet powered by DNN. The connector ensures that only the last checked-in version of documents and SharePoint Lists is exposed, ensuring adherence to governance rules and best business practices.
SharePoint Connector enables SuperUsers and Administrators to synchronize files between a SharePoint site and a DNN site. Files that are maintained on SharePoint are the 'master' source files that are then 'pushed' to the DNN site.
SharePoint Connector is located on both the HostThese users have full access to manage the settings and content of all sites with this DNN installation, including the Host site. SuperUser accounts are created using the Host > SuperUser Accounts module. > Advanced Settings > 

SharePoint Connector page and the AdminRegistered users who are members of the Administrators role. These users have full access to manage the site including adding, deleting and editing all pages and modules. Administrators also have access to the Admin pages located on the main menu. > Advanced Settings >

SharePoint Connector page. The SharePoint Viewer can also be added to any site page.
Features:
Files deletes from SharePoint can optionally be deleted from the DNN site, as configured for each Synchronization Item.
Synchronization can be scheduled as required.
A Log Viewer is integrated with SharePoint Connector to enable Administrators and SuperUsers to view, manage and send log entries. See "About the Log Viewer"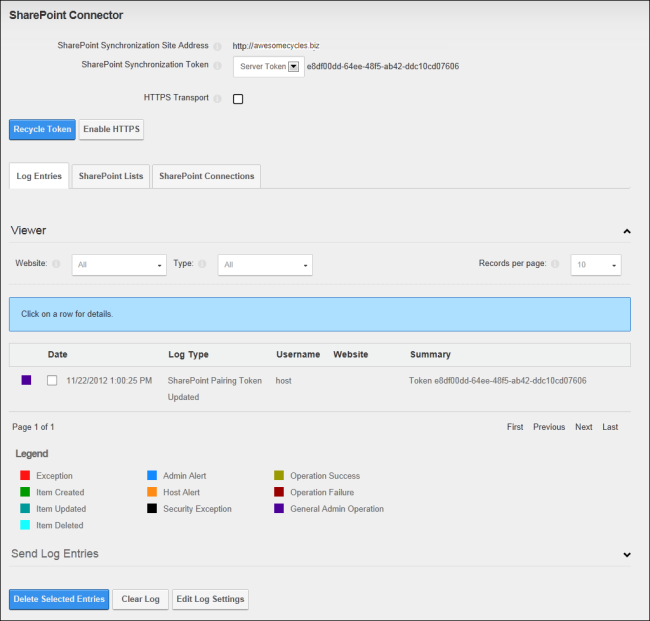 The SharePoint Connector